New Membership Offerings for 2023!
UPDATED PRICES
Click here to view and print the Friends Of Garvies Point Museum and Preserve Membership Application
or scroll down to subscribe via Paypal
All members receive:
Free admission to Garvies Point Museum for one year
Free admission to major events (Geology Day, Dinosaur Daze, Garvies Point Museum Day, Native American Feast weekend)
15% discount in our Museum Gift Shop
10% discount Annual Native Plant Sale in association with North Shore Audubon Society
Notices of special events and programs
Invitations to MEMBERS ONLY events and programs
Family Plus (2 adults & up to 4 children under 18) & higher Memberships receive:
All above benefits PLUS
Member pricing on birthday parties
Member pricing on Children's Summer Day Camps
Quartz Patron ($125)/
Emerald Sponsor ($250)/
Ruby Benefactor ($500)/
Diamond Sustainer ($1000)
Receive the following added benefits:
North American Reciprocal Museum (NARM) Association program with free admission and discounts to over 1,000 art, cultural, historical museums & gardens across North America! For more information visit: www.narmassociation.org or see brochure.
Garvies Point Museum mug ($14.95 value)
2 Membership cards
Did you visit Garvies Point Museum as a child? Last week? Not yet?
2022 marked the 55th Anniversary of Garvies Point Museum. Why not make this year the year you join Friends of Garvies Point Museum and Preserve?
Who are the Friends of Garvies Point Museum and Preserve?
The Friends of Garvies Point Museum and Preserve formed in 2005 as a 501(c)(3) not-for-profit organization, chartered by the New York State Board of Regents with the express mission of promoting Garvies Point Museum and Preserve and assisting the staff of the Museum in maintaining and enhancing the collections, exhibits and interpretive programming of the museum, as well as the woodlands, shoreline, meadows, ponds and thickets of the Preserve. Whether we visit Garvies Point frequently or only when we have guests from out of town, we share a common interest in preserving every aspect of this Long Island "gem" of a spot.
We need your support more than ever. Please join. Consider a higher category of membership or a tax deductible donation, and visit us soon.
Check out the museum's gift shop run by the Friends of Garvies
What are some of the things we want to accomplish?
Seek funds through grants and donations to contribute to the upgrading of museum exhibits
Assist with the installation of Museum exhibits in public libraries
Host receptions for special exhibits in the Museum
Serve as volunteers for Museum School Programs & Workshops, trail maintenance, habitat restoration and special events
Coordinate the annual shoreline cleanup with the American Littoral Society
Present off-site promotional talks about Garvies Point to civic groups
Friends of Garvies Point Museum and Preserve Gift Shop
Support Sculpture and Jewelry/Lapidary Workshops
Board Members
Kathryne Natale, President
John Pitrowski, EdD, Vice-President
Kathleen Shields, Treasurer
Donna Kianka, Secretary
Jill Vomacka, Member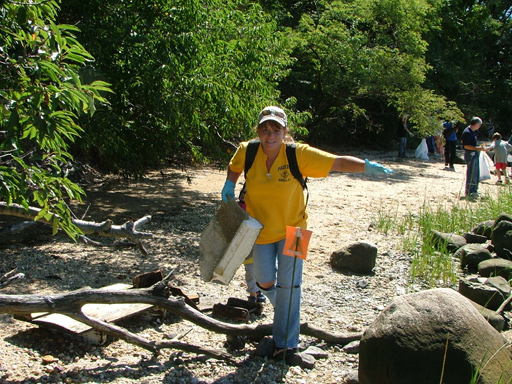 International Beach Clean Up Day.